Self-Cure • Fluoride Releasing • Radiopaque
GlassLine is the ideal radiopaque liner for use under all types of dental restoratives. It bonds to dentin, reduces microleakage and percolation of fluids, and releases favorable fluoride ions. It is also used as a post cement and orthodontic band cement.
For a thin liner under Class III & V
For shallow Class I & II composite and amalgam restorations
For cervical erosion.
For post cementation
For a radiopaque crown and bridge cement.
Compressive strength: 14,500 psi.
All Pulpdent Glass Ionomer Cements Offer These Outstanding Benefits:
Fluoride ion release
Low coefficient of thermal expansion: 9 ppm
Excellent bond strength to dentin and enamel
Acid-etchable
Very high compressive and diametric tensile strengths
Controlled setting to prevent rapid dehydration which has been shown to cause pulpal sensitivity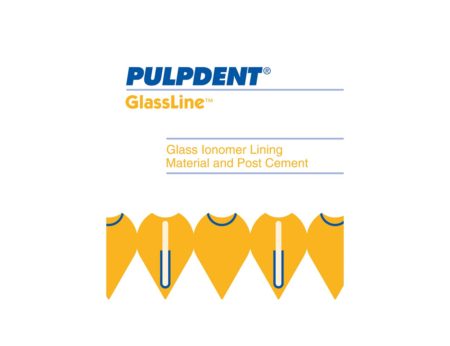 ILI – GlassLine Kit: 30g powder, 15mL liquid, mixing pad, scoop